How Electronic Pet Containment Fences work.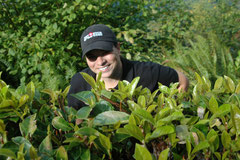 Do you have a pet containment need?
With our experience and technology we can help you construct the best layout to meet your needs as a homeowner while creating the perfect solution for your pets.
How are Electronic Pet Fence Systems installed?
When having an electronic fence installed the wire must be installed in a continuous loop to close the electronic circuit.
Every yard varies in shape and size but the most typical layouts of pet fence installation are shown below.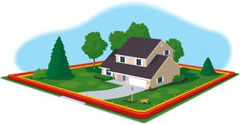 The most common installation is a Full Perimeter Loop. This is where a wire is installed completely around your property giving your pet free range of your yard.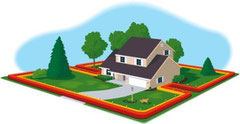 The second most common installation is what is called a figure 8 or a Pinch. This is where the wire is installed around the property just like the Full Perimeter Loop only with a pinch in the middle creating two zones, a front zone and a back zone.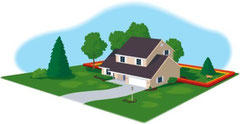 When you are looking to have one zone such as only a front yard fenced or only a back yard fenced, we often install what we call a Double Loop or a Banana Loop. This is where the wire is installed around the area you are looking to contain then brought back the same way creating the double loop.
What are the most common ways to install the pet containment fence wire?
Professional trencher; Use a professional trencher that slices a 1/4 in. cut in the ground surface followed by a wire layer, laying the wire in the cut typically 3-5 inches deep. 
Hand bury; hand bury the boundary wire using a shovel or trowel and tack it down with sod staples.
Zip tie; Zip tie the boundary wire to a chain link or wire fence.
Staple; Staple the wire to a wooden fence or  like surface.
Diamond Blade; Use a diamond blade concrete/asphalt cutter for boundaries that need to cross sidewalks or driveways.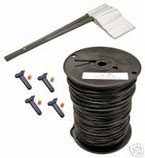 Puget Sound Pet Stop uses only high quality products. We use professional grade waterproof splices and professional grade dog fence wire designed with a special UV jacket to hold up in all weather conditions allowing the wire to have an extended life whether it is installed above or underground.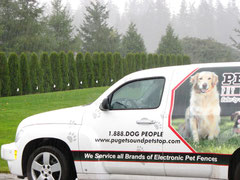 Once your electronic pet fence system has been installed, your Puget Sound Pet Stop technician will mark the perimeter with boundary flags giving your pet a visual of their new yard.
Training is a key to your pet's success. Puget Sound Pet Stop provides three (3) initial training sessions to familiarize your pet with the concept and get them well on their way in being trained to their new boundaries.
We give you a Pet Stop Owners Manual and a Puget Sound Pet Stop Training Manual outlined in straight forward terms the steps that are necessary for your pets success.
We provide FREE SERVICE within the first 90 days following an install, this can include additional training sessions if needed. Your pet's safety is our top priorty.
Puget Sound Pet Stop®  provides direct manufacturer warranties only on Pet Stop® brand electronic fence products and is not affiliated with any other electric pet containment manufacturer.  Primary service area is Western Washington, King County, Snohomish County, Pierce County, Kitsap County, Island County, Thurston County, Skagit County, Whatcom, County, Seattle, Everett, Tacoma, Bellevue, Olympia, and Bellingham, North Sound, South Sound, Peninsula, Redmond, Sammamish, Lynnwood, Woodinville, Bainbridge Island and all
Western Washington Metropolitan areas. For more specific dog fence and cat fence service areas, please visit:
 http://www.pugetsoundpetstop.com/pet_stop_service_area.php     or call 425-931-6897 or Toll Free: 1-888-DOG-PEOPLE