Invisible Fence® Trade Ins, Invisible Fence® Batteries, Invisible Fence® Service Specials
Puget Sound Pet Stop® is an authorized provider of Pet Stop® electronic dog containment and cat containment products.  We provide expert service on all brands of electronic pet containment systems as an independent contractor and we offer compatible batteries for Invisible Fence® systems and offer compatible collar receivers to work seamlessly with Invisible Fence® brand of pet containment. 
Invisible Fence® is a registered trademark of Radio Systems Corp., Invisible Fencing® is a registered trademark of Radio Systems Corp. Invisible fence® brand by Pet Safe.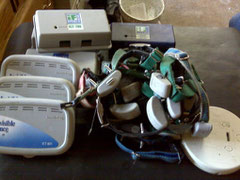 Do you own an Invisible Fence® brand of of fence and for some reason are unhappy?
You like others may be looking for a More Humane type of electronic pet fence for your dogs or cats, or possibly just want the latest Digital Technology or GentleSteps training features, a patented lower level of correction for your pets.   
Puget Sound Pet Stop offers Invisible Fence® Trade in specials:  Our Pet Stop® electronic containment system is available for up to 70% discount when trading in a comparable model Invisible Fence® transmitter, receiver or system.
Needing just a service call?
For any Invisible Fence® current user, we provide a one time 50% discount for our basic service fee.  This can include a wire repair, system check, flag and train, etc.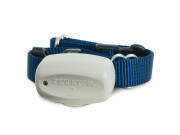 Pet Stop® The only Collar receiver on the market that is compatible with other brands of electronic pet fences.
The Pet Stop® brand dog collar receiver can be programmed to work on most containment systems on the market.  We can match AM or FM signals as needed.  You can upgrade just one dog collar receiver or an entire outdoor pet fence system while using the existing wire.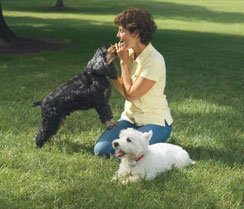 Advanced features that sets Pet Stop® apart:
ComfortContacts®: The comfort of soft rubber probes. 
SafetyStop™: Our products will shut off AND STAY OFF if your pet gets stuck in the zone.
SmartReceiver®: Prevents false shocks better than any other brand.

Progressive Levels of Correction. 

FlashAlert®- LOW BATTERY LIGHT.

ZappAlert™ Wire Break warning in the event of damaged wire.

Our UltraElite® receiver is extremely light, weighs only 1.3 oz. (Great for small dogs and cats!!!)
Digital Technology with LIFETIME WARRANTY.
All Products Made in the USA.
Puget Sound Pet Stop offers Trade-In/Swap Out incentives for ANY BRAND of fence.
PetSafe®, Pet Guardian®, Invisible Fence®, Innotek®, DogWatch® and Dog Guard®.
Call 1-888-364-7367
To take advantage of our Special Trade in prices or to learn more about our Compatiple Collar receivers.

100% Satisfaction Guaranteed or your money back.
©2007-2008

Puget Sound Pet Stop. All Rights Reserved.
Puget Sound Pet Stop®  provides direct manufacturer warranties only on Pet Stop® brand electronic fence products and is not affiliated with any other electric pet containment manufacturer.  Primary service area is Western Washington, King, Snohomish, Pierce, Kitsap, Island, Thurston, Skagit, Whatcom, Seattle, Everett, Tacoma, Bellevue, Olympia, and Bellingham, North Sound, South Sound, Peninsula, Redmond, Sammamish, Lynnwood, Woodinville, Bainbridge Island and Western Washington metro area.   For more specific dog fence service areas:  http://www.pugetsoundpetstop.com/pet_stop_service_area.php     or call 425 931 6897
Invisible Fence® is a registered trademark of Radio Systems Corp., Invisible Fencing® is a registered trademark of Radio Systems Corp. 
Pet Stop, Pet fence, invisible fence, Dog fence, cat fence, electronic fence, undergroung fence, hidden fence, pet containment, dog containment.