The Pet Stop Guarantee
Because you deserve the best
Most Pet Stop products are covered under our lifetime warranty. All Pet Stop Outdoor Transmitters and Receivers are backed by Lifetime Warranty and our Indoor transmitter carries a 24 Month Warranty.
We offer a 30 day money back 100% Satisfaction Guarantee and a 100% Pet Containment Guarantee. If you are unsatisfied in anyway or we are unable to contain your pet, you will receive a full refund.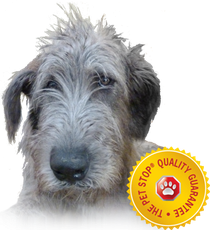 No One but Pet Stop would dare make this statement!
"If you can find a more advanced pet containment system than Pet Stop, we will buy it for you!"
Simply put, our guarantee cannot be matched by any other pet containment company out there. Not Invisible Fence®, Dog Watch®, or Dog Guard®, Not Pet Safe® or Innotek®,
What you can expect from us is an all around great experience from the Installation and training to our products designed by the best engineers in the industry.

Puget Sound pet Stop's commitments to you: 
30 Day, 100% Money Back Guarantee. 

FREE Training within 90 days of Installation. - We will come back and train if needed.

Pet Containment Guarantee, or you'll receive 100% refund of your purchase price. 
Warranty: Even damage not normally covered under the lifetime warranty carries only a nominal charge, so you'll never have to buy a piece of equipment again at the full retail price. s/h charges apply.
Pet Stop® is a registered trademark of Perimeter Technologies, Inc. Invisible Fence, PetSafe and Innotek are registered trademarks of Radio Systems Corporation. DogWatch is a registered trademark of DogWatch, Inc.
Pet Stop® Pet fence Systems also known as: Electronic fence, Dog fence, cat fence, electric fence, undergroung fence, hidden fence. Pet containment system keeping your pet safe - Pet Stop®: "The Best Fence You'll Never See". 1-888-364-7367
*Notice for all of Pet Stop Northwest customers. Pet Stop Northwest is no longer a dealer for Pet Stop. They have been out of business since mid year, 2007. Pet Stop Northwest's company promises, Pet Stop Northwest's company guarantee's were binding contracts with you and Pet Stop Northwest only. Puget Sound Pet Stop® is the new Exclusive Western Washington dealer with it's own company promises and guarantees. We are here to provide direct manufacturer warranties on your Pet Stop® brand electronics, We sell Pet Stop brand batteries and  accessories to meet your needs www.bestpetfence.com.
©2007-2008

Puget Sound Pet Stop. All Rights Reserved.