Pet Stop Indoor Transmitter

All our products are MADE IN AMERICA by Perimeter Technologies, Inc., the manufacturer of all Pet Stop® Products.
"Safer by design. Greater peace of mind."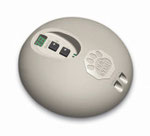 Many people think of electronic dog fence systems and electronic cat fence systems strickly for outdoor use.
Pet Stop offers a solution for your pets indoors as well.
Using the same technology as our Outdoor system with highly customizable settings, you can specify certain area within your home to be free range or become off limits. Pet Stop electronics offer the widest range of setbacks offering the lowest  and largest setbacks in the pet fencing industry allowing areas as small as just a few feet. 

Tired of chasing the cat off the counter tops?
How about constantly shooing the dog out of the formal living areas?
Better yet, keeping a dog away from things like garbage cans, cat food or cat litter.
With the Pet Stop Room Wizard™...
                              These tasks have never been easier.  
Once your Indoor Transmitter is set up and your boundaries have been established, if your dog or cat enters the zone they will get an audible alert tone, followed by a static correction if necessary.
The UltraElite® receiver and UltraMax® receiver is fully compatible with both the Pet Stop Outdoor Transmitter and the Pet Stop Indoor Transmitter  to work seamlessly inside or outside the home. 
Pet Stop® Indoor Transmitter - Can be used as a wireless unit or can be wired for a more custom layout.
Your pet Stop professional will help you choose the best layout for your space.