Pet Stop® Pet Containment Products Overview
All Pet Stop® Outdoor Transmitters and Pet Stop® Indoor Teansmitters have Digital Technology (DM) - The digital framework eliminates interference due to it's ability for numerous settings. Unlike other pet containment systems that use an AM or FM frequency, DM ensures a tight digital code which delivers the precise intended leaving no "holes" in your pet fence.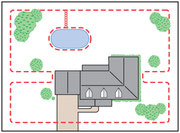 Outdoor Fence System
Our customizable dog fence and cat fence can de designed with diverse zones and settings, and is buried out of sight to maintain the beauty of your property.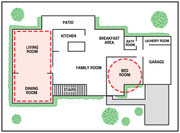 Indoor Fence System
Not just for outdoor containment, our technology can easily keep the kitty off the kitchen counter, the dog out of the litter box or your animals out of the formal area in your home. Chose a wireless or custom-wired solution to best fit your needs.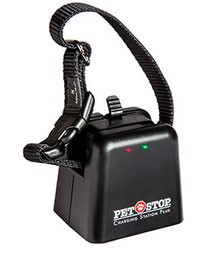 EcoLite Receiver. The smallest and lightest receiver available. - No other competitor can offer this light weight, highly effective collar. With its unique settings, less than 1oz. in weight and rechargable battery - We guarantee it will contain any breed, or your money back.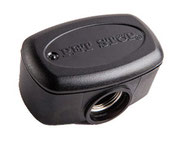 Our UltraTuff® Collar receiver weighs 1.7 oz. and is a standard size and weight on the market that's boasts a chew resistant casing. Each receiver can be individually programmed to meet the specific personality of your pet.
The UltraTuff receiver can be programmed to work on most Pet Containment transmitters. PetSafe®, Pet Guardian®, Invisible Fence®, DogWatch® and Dog Guard®.
Keeping your pet safe and contained is our business. Our trained professionals will help you choose the right pet containment system for your space and right receiver for your pet.

All our products are MADE IN AMERICA by Perimeter Technologies, Inc.,
the manufacturer of all Pet Stop® Products.
Puget Sound Pet Stop's Dog Collar and Cat Collar receivers.
UltraMax® Receiver - For the large and/or stubborn dog breeds. (Special Order)
Carries a Lifetime Warranty.
UltraTuff® Receiver -Designed to take what most dogs can dish out, incredible chew resistant collar.
Carries a Lifetime Warranty
UltraElite® Receiver - Light weight and weighs only 1.3oz, universal settings for most any breed. Includes puppy and stubborn dog features.
Carries a 3 year Warranty.
EcoLite® Receiver - The lightest, smallest receiver ever made and weighs only .8oz. Rechargeable - Eco-Friendly. Perfect for small breeds and cats. 
Carries a Lifetime Warranty.
Pet Stop® is a registered trademark of Perimeter Technologies, Inc. Invisible Fence, PetSafe and Innotek are registered trademarks of Radio Systems Corporation. DogWatch is a registered trademark of DogWatch, Inc.
Pet Stop® Pet fence Systems also known as: invisible fence, Dog fence, cat fence, electric fence, underground fence, hidden fence. Pet containment system keeping your pet safe - Pet Stop®: "The Best Fence You'll Never See®".