Puget Sound Pet Stop's dog fence reviews and cat fence reviews. 
Independant reviews to include information about our superior customer service, comparison to other brands like Invisible Fence, rants about our succesful training techniques, our handling of small dogs, large dogs, puppies and cats too.
We strive to meet the needs of our customers and their pets by treating your pets and home like our own. Delivering a professional quality installation, personalized hands on training with a containment guarantee, and offering the most advanced technology available. We'd be honored to count you as one of our many satisfied dog fence or cat fence customers.
A few Customer Testimonials below, references available upon request.
Please Call 425-931-6897 or 1-888-364-7367
Puget Sound Pet Stop's invisible fence system has given our family the security of knowing our dogs are safe and happy! We live on 5 acres and already had one dog (Jinx) that ran freely. He mainly stayed on our property but would sometimes roam down to the road. We then decided to get him a companion and wanted to contain them in some way. I called both Invisible Fence and Puget Sound Pet Stop to meet with a representative. My meeting with Invisible fence was not productive and I did not feel at ease. In the first 5 minutes of my meeting with Pet Stop, I knew they were the ones for us! They were competative, helpful, their collars were much more "friendly" and they were clearly looking out for our pets. We had approximately 4 acres contained and instead of one companion for Jinx, we got two Great Dane puppies! Pet Stop trained Jinx first (before we got the puppies), then they came back and trained the puppies when they were 3 months old. After having them on the fence for a while, it was clear we needed a few more options to contain these rather large puppies! After calling with desperation in my voice, Pet Stop was out the very next day to split our containment area into to sections! We have been so pleased with our invisible fence! The dogs are happy and we have our peace of mind knowing that even when we are gone, they are safe in their own yard! Thank you Puget Sound Pet Stop! -Teresa Rodewald  from, Snohomish, Washington - Snohomish County
                                  _______________________________________
Pet Stop system has really improved our piece of mind! While we had a fully fenced yard, the fence was sloped with several opportunities for our new puppy (German Shepherd) to escape with just a bit of digging - and the bigger challenge - a pool that is covered with a soft top during the winter months. We originally had Invisble Fence come out and look at our challenges - their quote was extremely high and I didn't get the feeling that the Invisibile Fence representative really embraced pet ownership and the love of animals. Since this was our first pet in many years, I was really looking for some help in stay at home dog behaviors and expectations along with help in safe containment. Invisible Fence had only one recommendation with a high price - so I did a little more research. Pet Stop was a delight - they spent time getting to know me, my dog, and our lifestyle. Pet Stop had several great recommendations to deal with the pool (as opposed to Invisible Fence's single proposal)- as well as a unique recommendation to deal with the front of our house. I was extremely impressed with their engagement and willingness to find the best solution at the best price. Their follow-up has been outstanding - after living with the Pet Stop system, I realized that moving the fence line in one place would work better for outdoor time - the folks at Pet Stop came out the next day and moved the line with out charge. I would recommend Pet Stop to anyone and every dog - for peace of mind. Thanks so much! – Shellie Sadr  from, Bellevue, Washington- King County
                                  _______________________________________
We live in a small townhouse community and cannot have a traditional fence.  We were concerned about getting a new dog because of this.  The safety of the pet and potential issues of bothering our neighbors or even worse, damaging their property made some kind of pet containment system a must!  Fortunately, the choice of a Pet Stop pet fence system for our dog, Brady was a no brainer. 
We met both the Pet Stop and Invisible Fence representatives at this year's Seattle Home Show.  What a difference.  With Pet Stop, you are dealing with owners who care.  Their knowledge, willingness to take the time to educate us, great pet caring attitude, and very competitive price made the decision easy.
To our surprise, they are also the ones that came out to put the system in.  My back yard was full of blackberries and made the installation much more difficult, but that didn't stop them.  In fact, they got into areas we didn't even think they could reach.  The training of Brady was quick and easy.  Now, with Pet Stop encircling our back yard, he is safe, secure and not getting into other people's property.
The people at Pet Stop have provided an excellent product and even better service. After I got the blackberries removed, I called them to extend the system.  Again, they were willing and ready to provide that follow-up service.  I can't say enough good things about this company.  I highly recommend their system and their products. – Gary Kearney  from, Bellevue, Washington - King County
                                  _______________________________________
Literally Puget Sound Pet Stop is my cats lifesaver. We moved out here to the country and thought our cats would be safe to roam around to their hearts content. But then a neighbor down the road decided he didn't like cats coming in his yard and he threatened to capture any cats who entered his yard and take them to the dog pound. Yikes! I had to do something so I did a massive research on the internet about different kinds of unseen fences. I liked what I heard about Pet Stop fencing and had one other interview from another company and decided to go with Pet Stop. My prayers have been answered and now Spooky and Boo are safe from the ogre down the road. Now they are enjoying their own little acre and don't bother anyone and I love knowing where they are at all times. Thanks so much Pet Stop people! - Janice Wrenn  from, Arlington, Washington - Snohomish County
                                  _______________________________________
We have two dogs-- Denali and Kona and they are VERY active and both escape artists. We got Pet Stop installed around our fenced in backyard, front yard, and indoors. It's worked like magic! Our dogs are smarter than we though :) because they learned really fast! Even when they don't have their collars on, they know their boundaries (and we just got it installed last week). The inside one is great too because we don't have to have baby gates up or anything like that-- and it keeps the dogs from tracking mud all over the house, shedding, and the cat has a safe haven. (The cat is mean though, he sits on the other side of the line and watches the dogs-- taunting them-- he's lucky he's so cute!)
Anyway, they worked so hard when they got here and they even fit us into their schedule after we begged them to come as soon as they could. I HIGHLY recommend Pet Stop and thank goodness for Tammy and the rest of the gang at Puget Sound Pet Stop. - Tracy Tyson  from, Lacey, Washington - Pierce County
                                  ________________________________________
The team at Puget Sound Pet Stop came out right on time (how often does that happen with contractors?). They gave us a recommendation of where the electronic fence should go. Then, they went to work. After plugging it in and putting up the flags, they trained my dog, Clark. That's all he needed. Yesterday, there was a dog walking down the street. Before Pet Stop, Clark would have run full speed to the street to meet the other dog. Now, he ran right to the border and sat down. Pet Stop has also been great with follow up. Highly recommended. – Dan Fine  from Edmonds, Washington - Snohomish County 
                                  ________________________________________
I used to have two cats and one day we lost one, not sure what happened to her. Our family was devistated, it was right about the time we heard of kids killing cats in our area and couldn't stand the thought of what could have happened to her. Both cats were indoor/outdoor cats but we were too afraid to let our surviving cat outside. We heard from a friend of ours who had a Pet Stop dog fence that they worked on cats too. I was a little skeptical that it would actually keep my cat home but I can say... It works wonderful. Tammy came out and trained my cats for four days then installed our outdoor fence. My cat tried to leave the yard one time and has not left the yard in three weeks. I am so happy that we got a cat fence for Bella. Thank you Pet Stop- what a great experience and now I know my cat is safe when we let her outside. - Wendy Houston  from, Bainbridge Island, washington - Kitsap County
                                  _______________________________________
This is the third house we've put on the Pet Stop product, and we're also going to put it in our house in Arizona. It's so nice to be able to let the dogs out without worrying about them wandering off. The local dealer here in Everett is great. It was very easy to get on the schedule, and when we put in a new retaining wall and broke our wire – Debbie was out the next day to get our fence back up and running. - Susan Francisco  from, Lake Stevens, Washington - Snohomish County
                                  _______________________________________
My wife and I were 100% satisfied with Puget Sound Pet Stop...our 3 dogs are escape artist and within 4 days we have all 3 dogs off their leashes and running around. We appreciated the fact that they were able to be flexible enough to complete the entire process a week earlier then we had asked due to change in other plans. The staff knows this system inside and out and their professionalism is impressive. I'd recommend them to anybody!! - Nathan and Carly Hardin  from, Everett, Washington - Snohomish County
                                  ________________________________________
Getting a Pet Stop electrical outdoor fence for our two dogs was the best decision I have ever made to secure their safety.  We live in a semi country environment and our dogs love to chase the rabbits and squirrels.  Before we got our Pet Stop fence, I never knew where down the road I might find them.  I worried constantly about whether or not our dogs would be home when I arrived in the afternoon.  Now, with the fence encircling about 2 and a  half acres of our property, they remain confined and still have fun all day long and I have been relieved of my anxieties.  The next best pet decision I made was having Pet Stop install an indoor fence which keeps our dogs out of our living room, dining room and upstairs.  Our dogs would sometimes stray into these areas on rainy days and do "their business" when they didn't want to get wet and cold outside.  Not only has this arrangement saved my carpets, it also has kept me in good humor.  The people at Pet Stop have given us an excellent product and excellent service.  Before choosing Pet Stop, I compared their products with some of their competitors and found their collars and receivers to be much more pet friendly than the other products. Also, their total package was very competitive and a bit less expensive at the time we purchased our system.  I highly recommend their system and their products. - Sharon Clarno  from, Bonney Lake, Washington - King County
                                  ________________________________________
My dog is small and doesn't bother a soul but likes to wander the neighborhood. After the second trip to get him from the pound I needed to look into getting a pet fence. I went with Pet Stop for their guarantee and the product had better features for small dogs. The service was great and I am very happy we made the decision to get a fence. I highly recommend Debbie and Tammy and Pet Stop if you are considering a pet fence. – Larry Howard  from, Everett, Washington - Snohomish County
                                  ________________________________________
I can't tell you how much we've enjoyed our System. I think debit has passed on every conceivable test, from rabbits running through the yard to children trying to coax him out. Even other dogs have entered the yard when he's outside. He'll chase them out to his line and the miraculously stop! Thank you so much for an excellent product and the great service that accompanied it. I have recommended Pet Stop to anyone who asks about invisible fence systems and trust that should the neeed arise, I'll call upon you again, Thanks again! - Paula Keller
________________________________________

Jackie and Bender from 106.1 KISS-FM Radio
Hear what they have to say about their dog Ted on the PET STOP pet fence system.
Seattle, Washington morning radio DJ's
from, Covington, Washington King County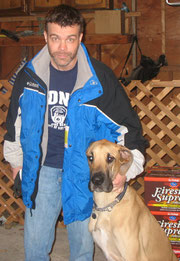 _______________________________________
We have two dogs Mr. T and Amiga. Mr T was never off of his cable, because he would run off, and not come when called. We live on a very busy highway and previously lost a dog because of the highway. We had Pet Stopiinstalled and could not be happier with it. The dogs are so happy having free reign of the yard, we have plans to extend it to the backyard soon. Thank you Pet Stop for your amazing product. We love it and so do Mr T and Amiga. - Karen Thamert. - from Maple Valley, Washington in King County.
_______________________________________
References provided upon request.
©2007-2008

Puget Sound Pet Stop. All Rights Reserved.