Dog Fence Tranining

Professional Dog Fence Training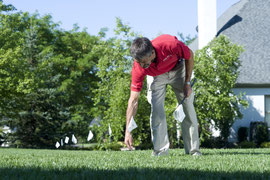 Once your Pet Stop® pet containment system is installed, correct perimeter training of your pet is of vital importance. That is why Puget Sound Pet Stop pet fence installers are professionally trained and certified dog handlers to assess your pet's individual needs.
We provide a minimum of three GentleSteps™ training sessions for each dog or cat on the system. We offer FREE training for the first 90 days after the installation,  if your dog or cat requires additional training - We will come out and provide additional training FREE OF CHARGE.
You will also be provided a training manual outlining in straight forward terms the principals and methods involved to reinforce the initial training.
In most cases pets can be trained easily so that they only experience correction once or twice and quickly learn to respond to the warning signal.
Puppy Training, and Shy or Rescue Dog Training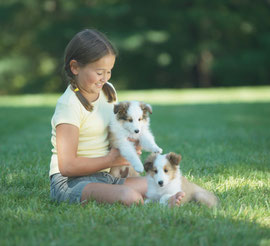 Pet Stop® has collars specifically designed for puppies, rescue dogs and the timid dog in mind.
These collars include GentleStepsTM  training technology. It's no hassle and simple features allow the customer to manually set the training levels as your dog progresses offering a safe, gentle approach to training your dog.
Our trained pet professionals will guide you through the training process to ensure the most effective and most humane training for your unique pet in mind. Puget Sound Pet Stop's philosophy is to provide maximum containment using the minimum amount of correction required.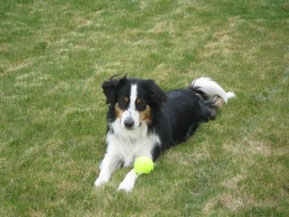 Rocky was the runt in a litter of 7 puppies, his parents were two Pet Stop dogs on Lake Tapps, Cody an Australian Shepherd and Lucy a Border Collie.
Rocky was brought home @ 7 weeks old and began his pet stop dog fence training at 8 weeks with GentleSteps. He has gone to work most everyday with the Pet Stop team proving himself to be a useful training tool.
Rocky has had many on-site training hours, he is often an essential part of our training process with our dog training.
Below are Rocky's most common training techniques.
A herding breed by nature, Rocky knows on command to corral a dog back on track.
Rocky often plays with hyper dogs and puppies to wear them out a little to give them the opportunity to be more focussed in their training sessions.
Rocky is used as a playmate in the "safe areas", showing dogs they can still be outside and have fun in there new yard. 
Rocky is often used as the final attempt to create a distraction by enticing your dog to test or cross the boundary. 
Ask us about our special trade in pricing for Invisible Fence® or these other brands of electric pet fence systems.
Invisible Fence® is a registered trademark of Invisible Fence Company.  Invisible Fencing® is a registered trademark of Invisible Fence Company. PetSafe®, Innotek®, Smart Dog®, Invisible Fence® and Pet Guardian® and Radio Fence® are registered trademarks of Radio Systems Corp.  Dogwatch is a registered trademark of DogWatch Inc. Dog Guard is a registered trademark of Dog Guard, Inc.
Puget Sound Pet Stop® provides direct manufacturer warranties only on Pet Stop® brand electronic fence products and is not affiliated with any pet containment manufacturer other than Pet Stop®.  Pet Fence systems also known as; Pet Fence, Dog fence, Cat fence,  Pet Containment, Electric Fence, Hidden Fence, Electronic fencing, Undeground Fence.
We are your authorized Pet Stop dog fence professionals serving these areas and surrounding:
King, Algona, Ames Lake, Auburn, Baring, Beaux Arts Village, Bellevue, Black Diamond, Bothell, Bryn Mawr-Skyway, Burien, Carnation, Cascade-Fairwood, Clyde Hill, Covington, Des Moines, Duvall, East Hill-Meridian, East Renton Highlands, Eastgate, Enumclaw, Fall City, Federal Way, Greenwater, Hobart, Hunts Point, Inglewood-Finn Hill, Issaquah, Kenmore, Kent, Kingsgate, Kirkland, Lake Forest Park, Maple Valley, Medina, Mercer Island, Milton, Newcastle, Normandy Park, North Bend, Pacific,  Redmond, Renton, Riverbend, Riverton-Boulevard Park, Sammamish, SeaTac, Seattle, Shoreline, Skykomish, Snoqualmie, Tanner, Tukwila, Union Hill-Novelty Hill, Vashon, West Lake Sammamish, White Center, Woodinville, Snohomish, Arlington, Bothell, Brier, Camano Island, Darrington, Edmonds, Everett, Gold Bar, Granite Falls, Index, Lake Stevens, Lynnwood, Marysville, Mill Creek, Monroe, Mountlake Terrace, Mukilteo, Silvana, Snohomish, Stanwood, Startup, Sultan, Woodway, Pierce, Auburn, Bonney Lake, Buckley, Carbonado, DuPont, Eatonville, Edgewood, Enumclaw, Fife, Fircrest, Gig Harbor, Lakewood, Milton, Orting, Pacific, Puyallup, South Prairie, Steilacoom, Sumner, Tacoma, University Place, Kitsap, Bainbridge Island, Bremerton, Kingston, Manchester, Port Gamble, Port Ludlow, Port Orchard, Poulsbo, Seabeck, Seattle, Silverdale, Southworth, Whatcom, Acme, Bellingham, Blaine, Deming, Everson, Ferndale, Glacier, Lynden, Skagit, Anacortes, Bow, Burlington, Concrete, Conway, La Conner, Mount Vernon, Sedro Woolley, Camano Island, Clinton, Coupeville, Freeland, Greenbank, Langley, Oak Harbor, Stanwood. Pierce, Lacey, Olympia, Rainier, Tumwater, Yelm  Don't see your city? Call  888-364-7367 we may have someone in your area.