Puget Sound Pet Stop
      "The Best  Fence You'll Never See"®
What makes Puget Sound Pet Stop's pet containment system superior?
Puget Sound Pet Stop is a leading provider of electronic pet containment systems serving Western Washington. We chose the Pet Stop® brand of underground/electronic/hidden Dog Fences and Pet Stop® brand of underground/electronic/hidden Cat fences because Pet Stop® is committed to continuous research and development of our electric fencing products, applying cutting-edge technology to create the most advanced, highly-effective safe pet containment system available.
We are driven by a genuine concern for keeping your pet safe and protected. Our Dedication to your pet's overall safety goes "hand-in-paw" with being the Most Humane and the Most Secure electronic pet fence system on the market.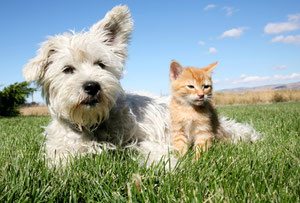 We service all brands of electronic pet fences. They are often also known as an Electric Fence, Electronic Fence, Hidden Fence, Underground Fence and Pet Containment Fence. Common brands include PetSafe, Invisible Fence®, DogWatch, DogGuard, Innotek and ContainaPet.
All brands of dog fences and Cat fences serviced in the following counties:
King County, Snohomish County, Kitsap County, Island County, Skagit County, Pierce County and Whatcom County.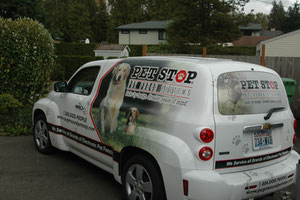 Have you seen one of our Puget Sound Pet Stop service vans locally?
Our Dog fence and Cat fence installation equipment is state of the art which assures you a high quality permanant pet containment fence solution.
Pet Stop Brand® Pet fences; "The Best Fence You'll Never See"®
Service, Training and Installation of dog fences and cat fences in Seattle, WA. Everett, WA. Tacoma, WA. Bellevue, WA. Olympia, WA. Kitsap, WA. and Bellingham, WA. Metropolitan areas.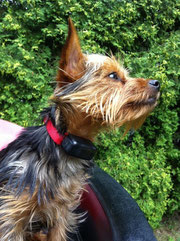 EcoLite® Plus Dog Collar receiver
Now Available EcoLite Plus® Finally a collar receiver that is Estra Small in size and Large in features. With a rechargeable battery and a diagnostic cradle charger, never worry about batteries or if our collar is working again.
The EcoLite Plus® is the industries smallest receiver with a rechargeable battery. Weighs .8 ounces making it perfect for small dog breeds and cats with features big enough for largest of breeds. 
We are offering an upgrade price for existing customers that want to convert their Pet Stop® battery operating collar receiver to the newer, smaller rechargeable EcoLite Plus® or customes that have the EcoLite® plug in that want to upgrade to the diagnostic cradle charging  EcoLite Plus® 
Swap Out program available for customers that have a different brand other than Pet Stop looking for the most Eco friendly and most humane in features.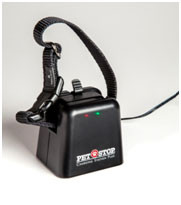 Re-Chargeable Battery with diagnostic cradle charger
Smallest Collar Receiver in the Pet Fence Industry weighs .8 ounces.
Compatible with; Pet Stop

®

, Invisible Fence

®

, Dog Guard

®

, Dog Watch

®

, Pet Safe® 

professional.

 

Our pet fence system is guaranteed to work gently but effectively for any breed of dog or cat outside or even inside your home.
100% satisfaction or your money back.
Bold but true statement from our Founder: 
"If you can find a more advanced Pet containment System available he will buy it for you"!

Pet Stop® is a proud member of:
IACP - International Association of Canine Professionals.

Puget Sound Pet Stop is proud to team up with The Humane Society for Seattle/King County.
"Bringing People and Pets Together."   Looking to adopt a pet?  start here
425-931-6897
1-888-364-7367 ~ 1-888-DOG-PEOPLE
Email:  Sales Department
Ask us for special trade in prices on Invisible Fence® or other brands of electric dog fences.  We are not associated with Invisible Fence®, but we offer Invisible Fence® batteries and Invisible Fence® dog fence collars compatible with Invisible Fencing® and most industry wide pet fence products for less! Invisible Fence® is a registered trademark of Invisible Fence Company.  Invisible Fencing® is a registered trademark of Invisible Fence Company.
Puget Sound Pet Stop®  provides direct manufacturer warranties only on Pet Stop® brand electronic fence products and is not affiliated with any other electric pet containment manufacturer.  Primary service area is Western Washington, King, Snohomish, Pierce, Kitsap, Island, Thurston, Skagit, Whatcom, Seattle, Everett, Tacoma, Bellevue, Olympia, and Bellingham, North Sound, South Sound, Peninsula, Redmond, Sammamish, Lynnwood, Woodinville, Bainbridge Island and Western Washington metro area.   For more specific dog fence service areas:  http://www.pugetsoundpetstop.com/pet_stop_service_area.php     or call 425 931 6897. For Replacement collar bands and replacement batteries visit: www.bestpetfence.com. Pet Stop UltraElite receiver requires a 6volt Pet Stop battery, Pet Stop UltraMax receiver requires a Pet Stop 7.5volt battery, Invisible Fence® R-21 and R-51 requires a Pet Stop 3volt powercap battery.
Pet Stop® is a registered trademark of Perimeter Technologies, Inc. Invisible Fence, PetSafe and Innotek are registered trademarks of Radio Systems Corporation. DogWatch is a registered trademark of DogWatch, Inc.
Pet Stop® Pet fence Systems also known as:  dog fence, cat fence, electric fence, undergroung fence, hidden fence. Pet containment system keeping your pet safe - Pet Stop®: "The Best Fence You'll Never See"®.